Zoosk Review

Bonus
This site uniquely uses information from the social media accounts you've already created
Overview
Packages: 1/ 6-month subscription (12.49$-29.99$ per month)
Special Features: Boost, Carousel, SmartPicks, Zoosk Coins
Premium Extras: A paid plan includes the ability to communicate through messages, see who's stalking your profile, and the use of SmartPicks
Security & Privacy: Zoosk does not often screen its members or inquire too deeply into their backgrounds to verify specific details
Go on site
Welcome to the latest of Zoosk reviews! Zoosk is a dating service that seeks to create an effortless user experience through a large network of singles.
Unlike other hookup dating sites that require you to complete boring surveys, this site uniquely uses information from the social media accounts you've already created. That seamless integration instantly connects you with an international dating pool of about 40 million people among 80 countries and 25 languages, letting you engage in a long-distance relationship should you choose. No matter where you're located, you can connect with someone wherever you go.
Now let's take a closer look at how to make a Zoosk profile.
Zoosk Sign in/Sign Up
It's a simple process to get a Zoosk account up and running. Because of the platform's integration, logging in to an existing Google or Facebook account will do the trick.
Upon access, you'll complete a short number of questions like your gender, desired partner preference, and birthday. Then, you'll be asked about a few personal details, which include your height, education, and other facts.
Zoosk pulls everything else, like your profile image and likes, straight from your social media. Later, you can add more photos and a bio to further spice up your profile. In total, the signing up procedure is fast and convenient.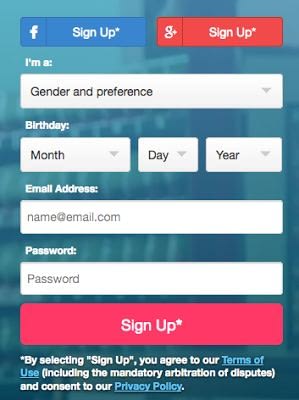 Members Structure
Your matches no longer need to be locally restricted!
With over 40 million singles, Zoosk makes it convenient to find love or a hookup internationally.
Additionally, Zoosk's user base is quite balanced, with 48 percent of the users identifying as male versus 52 percent females.
The age range is also relatively young, being 27 and 24, respectively.
This makes Zoosk a fantastic dating platform for women and men alike who desire the most options possible. Even though Zoosk only allows men and women as gender choices, the site is still LGBTQ+ friendly and has great diversity in different ethnic and religious backgrounds.
The number of users is nothing short of being impressive and wide-ranging. However, one thing to take note of is that plenty of the profiles could be inauthentic or non-active. Still, that won't stop you from finding active and seeking profiles left and right.
Matchmaking on Zoosk
Zoosk runs on their "Behavioral Matchmaking" algorithm that takes your actions, likes, and messages into consideration to figure out your specific interests. Once you activate your account, you can scroll among the profiles. You're able to narrow down your matches as you go on, filtering your results by a variety of factors like locality and age. If you find someone of interest, just swipe right to see their profile with their basic details, photos, and story. To indicate you're interested in a friendship, just tap the smiley face. For a lover's spark, tap the heart instead. If you want to connect, send messages straight from the profile card. Finding no interest? Ignore the card and scroll on.
Unlike other hookup dating sites, you can scroll up if you want to revisit a profile. However, Zoosk does offer a feature like Tinder called "Carousel," which lets you flip through profiles in a rapid manner without getting to read their profile or look through all their photos by liking or disliking.
Whatever it is you like to do, the most important thing is to start using the site. Zoosk's algorithm needs to learn more about you and the choices you make to refine their curated results as best as possible. Once you do so, this site will also send you potential matches to your email every day.
Profile Quality
Each profile's quality lets you get a general overview of each person you're interested in by providing a few photos, details, and self-provided bios. If you use the Zoosk Carousel feature, viewing another person's profile is instantly limited because its purpose is to be rapid-fire.
Zoosk allows you to verify your profile by photo verification to confirm that you're real and not a catfisher. Much like taking a photoshoot from your phone with all the right angles, your photo will be sent in and verified by indication of a green checkmark on your photo. Anytime you see another green check on another's profile, you can rest easy knowing that they are real and authentic.
However, because of how simple it is to create a Zoosk account, there are accounts that inevitably slip through the cracks. You might receive a lot more spam messages than you bargained for or witness attractive profiles that might just be fake in the end. There are also several inactive accounts that won't respond no matter how much you message them. Despite these spammers and seemingly non-existent profiles, there are millions of people who are still eager to match with you.
Zoosk App Review
Zoosk also operates on an app that's available on iOS and Android. It has an average rating of 4.3 stars out of 69,500 reviews on the Apple App Store and an average of 3.6 stars out of 602,870 reviews on the Google Play Store. Many of its reviews cite a poor user experience, limited search results, and the inability to tell whether a profile is still active or not.
One of the biggest disadvantages of using Zoosk is the frequent advertisements that pop up, usually almost every other 3-5 profiles. You're frequently asked to rate the app and must obtain a subscription or watch an ad just to see who viewed your profile. However, there are still plenty of high reviews and success stories that have resulted from Zoosk. Many praise the easy registering process, quick connections, and legitimacy that they've found.
Design and Usability
Although Zoosk boasts pros such as a quick search tool and an easy sign-up process, the interface and layout are modern but still lackluster. It features a dual-color theme that can get monotonous very quickly, and the constant ads can make the usability a little annoying. Occasionally, you might even experience crashes, and the lack of a video chat feature leaves the service a little unfulfilling. However, its features can make up for the lesser user experience.
Special Features
Sometimes, it can be difficult to get organic matches day after day. If you want to expand the pool of people your profile is put in front of, you can use Zoosk's Boost feature. Boost can prioritize your profile and put it at the very top of the queue for all users in your locality. This guarantees more views and, hopefully, more matches.
The second feature is the Carousel feature, which gives you a fast-swiping experience like the likes of Tinder. All you can do is like or dislike, without the ability to view someone's profile or photos in-depth.
The third feature is called SmartPicks, which lets you find other profiles that match the specifications you like and takes away any matches that you dislike.
The last special feature of Zoosk is their unique virtual currency system called Zoosk Coins, which lets you gift your matches. You can gift things like flowers, email messages, strawberries, and a variety of romantic gifts to make a special gesture. Other than gifts, you can also exchange coins for more messages and profile boosts. You're not required to buy these coins, nor are they a part of the memberships. In fact, you can even accumulate them for free through actions you do, like inviting a friend onto the platform.
Security and Support
Even though the user base is huge, don't assume that every profile is authentic or active. Many profiles you come across might be fake. If the photos are dated in 2007 or beyond, chances are they're not regularly active. To find out how many profiles are inactive, you can take note of the members who are indicated "Currently Online" or "Recently Active."
You also want to watch out for potential scams. Never readily jump to click links for other websites that some accounts may message you with. Also, don't be too eager to share your personal details right off the bat. If an account comes onto your gut feeling unsafe or uncomfortable to interact with based on suspicious behavior, Zoosk lets you report and block a member easily. You might also want to pull out your detective skills and scope out the people you match with. That's because Zoosk does not often screen its members or inquire too deeply into their backgrounds to verify specific details.
Costs and Prices
You can only click through pages and like users if you have a free account. To talk through messages, you need to purchase a paid membership.
A subscription for one-month costs $29.99.
You can get a discount if you opt for a six-month subscription at $12.49 a month.
A paid plan includes the ability to communicate through messages, see who's stalking your profile, and the use of SmartPicks.
You can add an additional Instant Crush membership for $9.99 a month, which lets you have unlimited "redoes" on the Carousel feature, boost your profile, and add yellow stars to your message inbox.
Finally, another add-on purchase lies in Zoosk Coins to spend on Boost, gifts, and anonymous browsing.

Zoosk Cancellation
You're able to cancel your subscription from your computer and smartphone in a matter of minutes. Note that if your subscription comes from a third-party service, you must cancel according to their rules. If your paid membership is also set to automatically renew, Zoosk gives you the option of turning that off to cancel your subscription after the pay period is up. Finally, even if you cancel your subscription, it does not mean your account has been deactivated. Hence the number of fake profiles is still lurking. You can take a few extra steps to ensure that your account gets taken down.
Conclusion
For this Zoosk review, our conclusion is that it's a platform that's easy to kick-start and where it's easy to engage with others. Its large user base is a notable feature that makes it a fantastic choice when it comes to hookups and dating sites in general, but the high number of inactive users might skew the exact results. The lack of intuitive navigation and total user control might make for a lacking experience as well. However, it's certainly worth a try. Your next hookup or relationship might just be waiting for you on Zoosk!
FAQ
Who owns Zoosk.com?
Spark Networks SE is an international parent company with a portfolio of different brands that include ownership of Zoosk.
Is Zoosk Legit?
Even though several scammers and inactive profiles will always exist, Zoosk's high user base makes it a legit site.
How do I prove my identity after my photos were denied?
If your photos weren't accepted, you can verify your account using your phone number or Twitter handle.
How can I block another Zoosk member?
Visit the user's profile and tap on the grey arrow to report and block. On the app, navigate to their profile, click on the three white dots, and tap the report and block option as well.
Summary
Reviewer
Review Date
Reviewed Item
Author Rating
Product Name
Price
Product Availability

This site uniquely uses information from the social media accounts you've already created