OkCupid Review

Bonus
OkCupid lets you have a fantastic experience on a free account alone
Overview
Packages: Basic Subscription & Premium Subscription (7.95-119.40$)
Special Features: free account, messaging, DoubleTake, ad-free
Premium Extras: chance to see who likes you without you having to do so first, using advanced filters, and a streamlined ad-free experience
Security & Privacy: OkCupid routinely checks up on their service to protect user data as much as possible
Go on site
If you've been looking for the latest OkCupid reviews, then welcome to the best one! OkCupid is a dating platform and mobile app that essentially operates as the perfect middle ground between boring swiping sites and marriage-centric platforms. With a massive number of users and a culture of acceptance, inclusivity, and diversity, its modern outlook can provide hope to anyone looking to secure a hookup or a long relationship. Without being too cheesy or intensely serious, it also guarantees a fun experience along the way.
Without further ado, let's explore how you can get started on OkCupid!
OkCupid Sign in/Sign Up
When you sign up, the platform will ask for an email address rather than a phone number. After you enter in basic information about yourself, you can select a max of five descriptions about your sexuality. With over 20 options to choose from, OkCupid shows how inclusive it is right off the bat.
Next, you get to select for what you're looking for on the service, from hookups, friendships, short-term or long-term dates, and non-monogamy. Now, you're onto the fun part of profile building, which consists of the quizzes.
Let's face the facts. Regular questionnaires are getting boring and tedious to fill out. Not to mention that people can easily falsify on there. However, OkCupid changes all of that! Each quiz question is an enjoyable experience on its own, from clever would-you-rather-questions to ones that force you to put yourself in interesting scenarios. You also might come across politically charged questions, but it's to guarantee that your match will share your political views. The more questions you complete, the more OkCupid can bring out your personality in a natural way. You can view other people's answers as they will see yours as well. When you're done with the process in a matter of minutes, you're ready to use the site.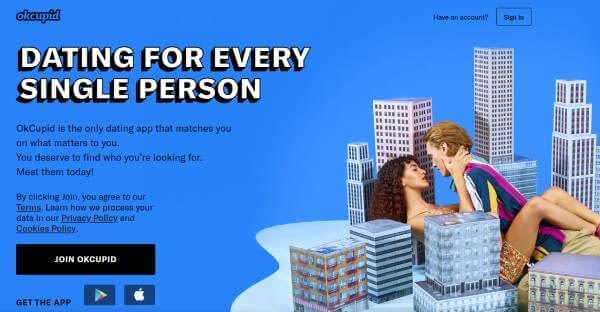 Member Structure
Members: 50 million
Preferable age: 20-50 years old
OkCupid boasts a user structure of more than 50 million singles with average ages around 25-34. It's no secret that OkCupid also prioritizes inclusivity when topics such as sexual orientations, gender identities, pronouns, and ethnicities surface. Where many other dating platforms would only have male and female options, OkCupid keeps it open to everyone. This also includes introverts and geeks who might feel uncomfortable on other dating sites.
The safe and judgment-free crowd truly provides a comfortable environment for everyone to fall in love. Overall, OkCupid is fantastic for those who veer more liberal and would like a mix between serious and fun dating. If you identify as a hard-core conservative who's desperate to get married quickly, this dating platform may not fit you.
Matchmaking on OkCupid
Once your profile goes live, you can begin swiping through other profiles. Random questions will be thrown into the mix to further cut down your options, and you can opt to use the "Discover" section if you want a more flexible experience in your selections. You're able to type in things you're interested in, like music or TV shows, to view other users local to you who typed similar things. As soon as you find a match, you're then allowed to send messages.
OkCupid, unfortunately, doesn't have an open messaging system, which means the only way to send messages is to get matched. Even though that might slow the process a little, the messages tend to be of higher quality. Still, if you're nervous about this, OkCupid's DoubleTake profile grants you a sneak peek of personal info before you're forced to swipe. Throughout the process, if you'd like more eyes on your profile, OkCupid lets you boost it.
Due to the large user base, you should start seeing likes and matches within minutes. If you've ever felt hopeless or lonely about love, OkCupid should quickly change that.
Profile Quality
The profiles on OkCupid are guaranteed to be a lot more genuine and fun to read than most dating sites. The questions make the profile-building experience feel informal, producing more authentic answers than fake embellished ones. Plus, OkCupid promises to deliver more personalized matches the more questions you complete. However, just like any site, OkCupid has its fair share of inactive profiles and catfishers. Even though this is inevitable, OkCupid still tries its best to prevent this through a verification option of connecting to an Instagram account.
OkCupid App Review
OkCupid is both available on iOS and Android. The app boasts 3.8 stars on the Google Play Store with 446,719 total reviews, while it has 4.3 stars on the Apple App Store with 194,100 reviews. Across the board, the reviews mention a great user experience and functionality. However, the biggest con is that an increasing number of features and abilities require you to hand over some money. Overall, it seems that service is more expensive than it originally was since its creation in 2004.
Design and Usability
The design of OkCupid is top-notch. It features a sleek, organized, and minimal design that still is as beautiful as it is practical, without overbearing you on pointless notifications. The efficiency of OkCupid's features means you spend less time looking for tools and more time finding love. It's incredibly user-friendly, thanks to a rebranding campaign that took place in 2018. As a whole, the site and app both provide a breath of fresh air.
Special Features
Using a free account, you can access features that allow you to create a well-rounded profile by answering question sets, followed by setting your dating preferences. Then, you can take advantage of their messaging feature to connect with people in your local area and get started planning dates together. The DoubleTake feature is free as well, which determines your swipes based on the provided information. If you decide to upgrade, you'll get access to more features, like the chance to see who likes you without you having to do so first, using advanced filters, and a streamlined ad-free experience.
Security and Support
OkCupid routinely checks up on their service to protect user data as much as possible. Plus, when it comes to accounts, OkCupid now requires that phone numbers be added for safety and security. If you ever encounter harassment on the site or feel unsafe, you can easily report any messages, profiles, or photos to the moderation team and breathe a sigh of relief, knowing that OkCupid will keep your details anonymous. Lastly, you can also block people from their profiles. All in all, OkCupid provides you with the most basic but essential safety and security features.
Costs and Prices
A-List Basic Subscription
1 Month – $7.95
3 Months – $6.35 per Month
6 Months – $3.95 per Month
A-List Premium Subscription
1 Month – $24.90
3 Months – $22.90 per Month
6 Months – $19.90 per Month
OkCupid lets you have a fantastic experience on a free account alone. However, if you're looking to upgrade, OkCupid provides several plans. The first is the regular A-list service. You'll see all the ads disappear but enjoy more searching filters. Another feature is unlimited messages and likes while simultaneously being able to see who likes your profile. The price starts at just $9.95 per month and gets discounted if you stick with the service longer.
If you'd like even more capabilities, opt-in for the Premium A-list service at just $25 a month. Not only do you get everything the lower package provides, but also free profile Boosts for higher visibility. Plus, you can see other people's question answers before you fill them out.
Compared to other hookup dating sites in general, OkCupid is generally more affordable.
OkCupid Cancellation
It's incredibly easy to cancel your OkCupid subscription. If you paid via credit card or PayPal, you could cancel right from the OkCupid website at the Subscription Settings page. Note that you cannot do so from the app. If, instead, you paid through iTunes or the App Store, go to the settings app on your phone and cancel your subscription from there. If you paid through Google Play, you can cancel directly from your Google Play account.
Conclusion
For this OkCupid review, the final verdict is that this platform is the perfect balance between commitment and no pressure. Ever since its creation in 2004, it has created meaningful relationships and hookups for over a decade. Now with over 50 million users, you're sure to find a handful of high-quality matches in a judgment-free zone due to its inclusivity and diversity. Along with its fun user experience consisting of quiz-like questions and interesting profiles, the modern look of the design all top OkCupid off to be a great hookup and dating site choice for anybody.
FAQ
Who owns OkCupid?
A company in Dallas called Match Group claims ownership over OkCupid. They also own Tinder and Hinge.
Is OkCupid Legit?
Yes, OkCupid is a legit dating site. Due to its long existence and a large number of users, it's one of the most well-known and reputable platforms on the market.
How do I prove my identity after my photos were denied?
You can verify your account in other ways by connecting it to a phone number or to an Instagram account.
How can I block another OkCupid member?
You can block a member from your computer by visiting a user's profile and tapping on the three dots to find that option.
Summary
Reviewer
Review Date
Reviewed Item
Author Rating
Product Name
Price
Product Availability

OkCupid lets you have a fantastic experience on a free account alone